BUGSY MALONE TAKES AUDIENCE BY STORM!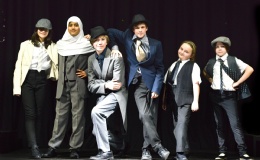 Please enter an introduction for your news story here.
It has been a long time since we were able to perform a live school production, but this was so worth the wait! Huge congratulations to all the students who demonstrated talent, commitment, team skills and resilience as they prepared for this year's production of Bugsy Malone.
We'd like to say a huge thank you to the drama and music staff for all their hard work in making this happen, to parents for helping with costumes and lines, and to Friends at Brentside for their support with refreshments.