Year 9 boys football - Brentside win against Cardinal Wiseman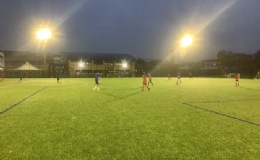 Brentside Year 9 Boys Football Team beat Cardinal Wiseman 5-2 on Tuesday.
Brentside storm past Cardinal Wiseman
Both teams warmed up in hailstones and driving rain as Storm Barra swept over. Whenever you play against Cardinal Wiseman you always expect a good opposition and so it proved to be again. Early on Cardinal Wiseman scored two goals, one off a very strong bit of attacking play and the second came from a long-range shot hitting the post and kindly falling for a Wiseman forward to tap in. Wiseman had Brentside under pressure in the opening 10 minutes.
Brentside gathered themselves and their usual composure on the ball returned. Wadea got Brentside back in the match with a powerful freekick. Moments later Tyler played a nice through ball to Dominic who levelled the scores with a calm finish to the side of the keeper. Soon Brentside were in the lead, Tyler the provider again, passing to Wadea who scored with a long-range effort. Just before half time a long hopeful ball into the box was dropped by the Wiseman keeper and Hasif was quick to score from close range.
In the second half Brentside started to control the game with some of their best passing moves of the season so far. Raheem and Alexander kept attacking down the line helping the attacking players who created numerous chances. Wiseman did have a few attacks, but they were well dealt with by a superb defence of Ryan, Kian and Ennis. When Abdul replaced Ellis in the second half the defence continued to look solid. Oskar had a busier game than in the previous matches, but made some fine saves to keep a clean sheet for the second half. With the last kick of the game Tyler scored to round off his best game of the season and the boys celebrated their third win in a row.