Winning Streak Continues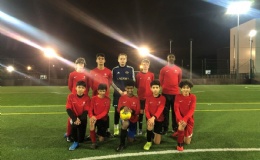 The Year 9 Boys Football Team ends the Autumn term with a 100% record after beating Ada Lovelace 5-1, making it four wins out of four.
Winning streak continues
Brentside put Ada Lovelace under pressure right from the kick-off going close with a couple of headed efforts and hitting the woodwork. The early pressure paid off when Hasif opened the scoring with a glancing header off a fine early cross from Dominic. Moments later Dominic picked up an errant back pass from an Ada Lovelace defender to score calmly to the side of the keeper.
The midfield and attack of Rahim, Tyler, Alex, Wadea, Hasif, Dominic and Mateen were linking up well to create a lot of scoring opportunities. Mateen carried out his usual duties protecting the defence and was pushing higher and higher up the pitch as he enjoyed his best game of the season. A powerful shot from Wadea struck the post and Dominic was in the right place at the right time to score from close range. Wadea was goal provider again when he played a through ball for Tyler to score making it 4-0 before half time.
The defence of Kian, Ellis and Hakeem had rarely been troubled in the first half pushing high up the pitch. They came under more pressure in the second half but were well organised letting little past. A long ball from Hasif was finished from a wide angle by Wadea to make it 5-0.
Then Dominic had to leave due to club commitments and Tyler was injured briefly. This left Brentside with 9 players on the pitch and Ada Lovelace started creating chances making good use of the two player advantage. Oskar made some great saves, but eventually lost his clean sheet when a nice through ball left an Ada Lovelace striker one on one with him. Tyler recovered from his injury and Brentside finished the game comfortably.