Brentside High Celebrates World Book Day 2022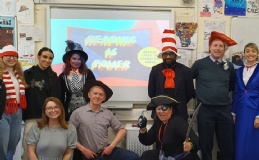 On 3 March, 2022, students and staff at Brentside High celebrated World Book Day which theme this year was 'You are a Reader'.
To celebrate, KS3, 4 and 5 Tutor groups participated in quizzes such as 'Who's Reading This Text?' (students had to guess the teacher hiding behind the book cover) and took part in the 'Guess the Shelfie' competition (students had to guess which teacher's bookshelf is in the photo). Students also received a book token to spend on a novel of their choice in outlets such as WHSmith, Waterstones or even our very own Brentside LRC. The English department also celebrated by coming to school dressed as one of their favourite novel characters.
With such success this year, we are already looking forward to the next in which we hope to include even more events such as 'Drop Everything And Read', 'Brentside Book Exchange' and 'Poetry Slam'...watch this space!