'Vision Path' Inspires Students' Vision for the Future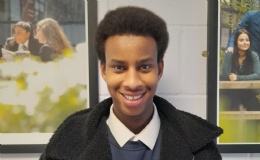 At the start of the year, a number of our Year 13 students took part in a workshop run by 'Vision Path'. Students were given the opportunity to discuss employability skills and future career aspirations.
They were then invited to apply for the mentoring scheme, which is a year-long programme for Year 13 students from schools across London from October 2021 – July 2022. The aim being to develop careers skills and access future opportunities in the technology industry.
Khalid (pictured) was one of our students who was successfully appointed into the programme. He had this to say about his experience:
'My work experience with Vision path in Berenberg bank has been amazing! My mentor George and I discuss various topics, including methods to achieve my personal goals. Through this scheme I have had the opportunity to work in investment banking where I worked alongside people my age and we went around and found out the different departments and at the end discussed what we liked most. Also, this work experience has led me to become more determined and focused in class. This also led me to develop my skills, knowledge and competences in my future job role. Thank you Brentside High School for the opportunity you have given me! '