Pop Art Project Installed in the Library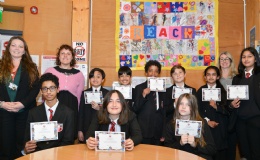 Over several months, the participants of the Art Club have made an amazing textile hanging focused around 'REACH', which is the acronym for Respect, Excellence, Achievement, Citizenship and Happiness. The artist that we looked at for inspiration was the famous British Pop Art artist, Peter Blake. Central to Blake's paintings and collages was his interest in images taken from popular culture, including comic books and superheroes. Over the past year we have been looking at local heroes and we thought that the students could turn themselves into superheroes for this piece.
On the 28 March we had the Grand Opening of the hanging in the school library, held by Miss Hames, Miss Lane and Miss Griffiths. Students involved in the project were given certificates for their participation. We think you will agree that the results are stunning!
A big well done to everyone who was involved and thank you to Miss Pinner, Miss Twieg and Miss Kadar who facilitated this project!