Drama News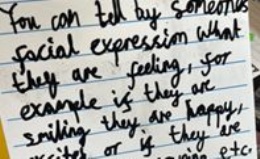 We have had a fantastic start to the year in Drama!
Year 11 students have started the final year of their GCSE course, and are currently in the final stages of rehearsing for their GCSE Devised Drama performance pieces that are being assessed in the last week of this half-term. Students have created a broad range of inspiring original theatre in response to stimuli and wider research. We are really excited to see their final presentations, which constitute 10% of their GCSE grade.
It has been wonderful to welcome our new Year 9 GCSE cohort, and we have thoroughly enjoyed working with our two classes. They acquitted themselves very will in their first performance assessment last week. Year 10 GCSE students are working on their set text in preparation for the exams, and have been exploring extracts as both directors and performers.
In Year 7 and 8 students have been endlessly creative in their response to learning tasks in lessons! We have also been using the mini whiteboards to check understanding of key concepts and how to apply them in our practical work. This is a small sample of some of their thoughtful responses demonstrating a grasp of the skills they are learning and applying practically.
In extracurricular Drama, we have l;aunched a brand new Scriptwriting group, and will be working with a professional playwright and theatre company, Papatango Theatre Company; Brentside was selected for a fully funded enrichment programme working collaboratively with Papatango. Our popular Drama club will resume on Tuesday afternoons after the half-term break, from Tuesday 8th November.
Ms Northcott, Subject Leader for Drama