Career Talk on Engineering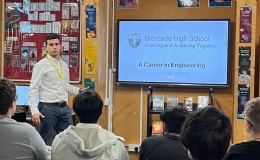 It helped me finalise my decision to study engineering. It was very useful to hear a personal account from a senior engineer in person." Taksh, Year 12.
Our fourth careers talk was presented by Gokce Yontucu, who shared his experience as a senior and civil engineer.
Students found it useful to have their misconceptions about this career challenge; to hear about how attitudes to women in engineering have changed; to learn about subjects and skills most useful to the role and the shortage of engineers in the world of work.
100% students who attended said they knew more about the role and routes into engineering by the end of the talk and 100% would recommend the talk to others. What an impact!