Vegan Food Cookery Demonstration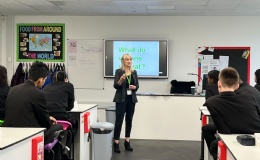 Food technology students were treated to a vegan cookery demonstration by a representative from Animal Aid.
The session was really engaging and students were eager to ask questions and have discussions on the advantages and disadvantages of vegan food. The speaker explained the reasons why people choose a plant-based diet and described what vegetarians and vegans eat to obtain a healthy balanced diet. We were delighted with the session. There were further discussions on sustainability issues and the treatment of animals.
Following this, the Animal Aid representative carried out a live demonstration on vegan chicken chilli. The cookery demonstration was a fun way to inform and enthuse students about healthy plant-based cooking. Students were able to taste the dish and were pleasantly surprised by how nice the dish tasted!