Drama News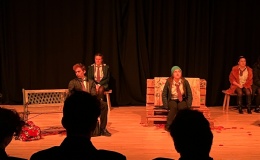 Students have a range of opportunities to work with professionals from the theatre.
GCSE drama students had the privilege of watching Quirky Bird Theatre Company's production of their set text, DNA, at Brentside this half term. After seeing the play, students had the chance to ask the actors questions about careers in the Arts as well as about the staging of this production.
We also launched a brand new scriptwriting club at Brentside. Our first project has been an exciting initiative: a collaborative programme with Papatango Theatre Company which specialises in new writing. We were partnered with a professional playwright, James Rushbrooke, who visited Brentside to deliver a writing workshop with the club in October. Following students' completion of monologue scripts inspired by the workshop, we hosted James for a return visit, during which students' original scripts were performed by professional actors via a Zoom link! Students' scripts have been published and will be available to read in the library. We are extremely proud of the students' achievements and look forward to more writing adventures throughout the year. New writers always welcome!